Doing the Camino de Santiago is a unique experience, one of those that must be done at least once in a lifetime. And it is even better if you can enjoy it with your pet. Have you ever thought about doing the Camino de Santiago with your dog?
It is a spiritual journey, whatever your beliefs, of introspection and contact with nature, with other people and animals that accompany you along the route with the same stretches. Moreover, the bond between you and your dog will grow stronger day by day as you share this experience. We are sure of that. But walking the route with your furry companion is not without its challenges. You will have to be very conscious and responsible for your pet's needs.
If you want to do the Camino de Santiago with your dog, here are some practical tips to help you in the preparation of the adventure and once in it. Let's get started:
Choose the best route
The first thing to keep in mind to do the Camino de Santiago with dog is the stretch that we want to do with our pet, mainly based on two factors:
The total distance to be covered and its daily stages.
The profile and difficulty of each of the stages.
Our recommendation is that, if it is the first time you are going to do the Camino, you and your furry companion should do the last 100 km of the French or Portuguese Way. That is to say, that you do the Camino from Sarria to Santiago or from Tui to Santiago. This choice is related to the following points (we will come to that in a moment).
In both cases, these sections of the route are well served by services and accommodation, and therefore, the challenges associated with pets are made more bearable.
Consider your dog's physical condition
Just as we always recommend to prepare physically to embark on a demanding experience as the Camino de Santiago, we do the same in relation to pets. Prepare yourself and your dog by taking long walks to get used to the type of effort you will make during the stages of the road.
If your pet is elderly, has a physical limitation or illness, or is too young, you may need to transport them at some point during the stage. If this is the case, you will need to equip yourself with transport adapted to the situation.
Check transfers to origin and destination
Another thing to bear in mind is that if you are using public transport to get to the starting point (or back from Santiago), you will need a pet carrier or at least a harness. This includes buses, trains, planes and taxis.
In addition, you should check that the company allows pets and what their policy is in this regard. For this reason, we recommend that you find out about the transport beforehand and bear in mind that, in these cases, the response of the companies may vary depending on the size and weight of the dog.
Search for petfriendly
Undoubtedly, one of the important points of any planning of the Camino de Santiago. Where are you going to spend the night? In this case, moreover, the issue takes on special importance because there are not many accommodations that allow pets.
Although there is no specific type of accommodation that guarantees that it will accept your dog, it is true that, on the whole, rural houses and hotels are more open to this type of guest. In many cases they have beautiful gardens where you and your dog can relax after the stage is over. But there is a downside. Normally, the rural houses are not located in the centre of town and you will have to travel to them, so it is common for your stage distribution to be altered.
However, this is not the only option: there are also guesthouses and inns that allow you to keep your pet with you in your room. And some hostels. We can help you to find a petfriendly solution. Ask us.
Be careful with your dog's identification
An essential tip is to pay attention to the identification of our dog. Dogs living in Spain are obliged to carry a legible chip with their details and those of their owner. This is important in case our pet gets lost or misplaced. What happens is that not everyone has a pet chip reader.
Therefore, to do the Camino de Santiago with a dog, putting a collar with a tag that identifies you as the person in charge and provides your phone number can avoid many unpleasant surprises. If someone finds it, they can call you directly without having to notify the police or a veterinarian.
And talking about vets...
Locate veterinarians along the way
For humans, walking the Camino de Santiago can cause some physical problems, especially in the legs and joints. For dogs, the situation is not much different.
Our pet will need the same kind of care as we do. Pay special attention to their paws and pads and don't hesitate to go to the vet at the slightest sign of a problem. It is good practice to have a list of veterinary clinics at each end of the season and, if possible, a centre with long opening hours.
It is true that all this information is available on the internet. But it is advisable to check beforehand, because not all localities have a veterinary centre open every day.
Also, before you start your trip, make sure your dog has had at least two doses of the following vaccinations: trivalent parvu (distemper, hepatitis and leptospira) and rabies vaccination 20 days before starting the Camino. We also recommend that you get vaccinated against kennel cough and against bordetella bronchiseptica.
It is also a good idea to have a small first aid kit for your pet (as well as for yourself): adhesive gauze, hydrogen peroxide, cohesive bandages, painkillers, healing ointment, corticoid ointment, tweezers, adhesive plaster, neutral soap, etc. It can be a good ally for topical treatments. As well as probiotics to help in case of diarrhoea or Urbason (methylprednisolone) in case of allergic reactions. This is only a recommendation; no one better than the vet to offer you more appropriate advice for your pet.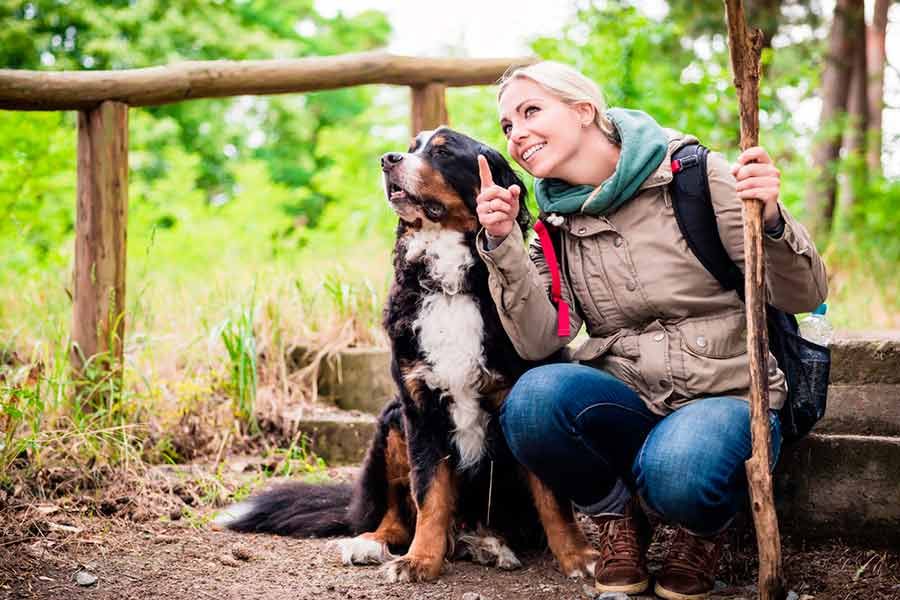 Avoid the middle of the day
The most dangerous part of the Camino de Santiago for your pet is the heat, the sun and the hot asphalt. That is why we recommend that you avoid the central hours of the day to perform the stage, that you get up a little earlier so that when you arrive at noon, you are already resting in the next accommodation.
If you are walking on very hot days, avoid as much as possible walking on asphalt at these peak times. Be aware that dogs do not have any footwear or protection between their paw pads and the asphalt.
In addition, it is important to ensure good hydration throughout the journey. Just as it is for you.
If, on the other hand, it rains a lot, take care to dry it well at the end of the stage. You can also use a light raincoat to keep it drier and protected from the rain.
Your dog's luggage
Another issue to consider when doing the Camino de Santiago with a dog is that our pets may need their own luggage. Especially if it is a domestic dog unaccustomed to travel long distances.
In these cases, it is advisable to maintain the same feeding pattern, so as not to subject your dog to further changes, and to carry small treats with you to give him on the walk, some sachets of wet food that provide calories and nutrients. You can also consider whether your dog will need a raincoat (especially if you are walking in the rainy season). There are even socks for dogs to protect their paws. And don't forget his bed and blanket to make sure he gets a good night's sleep, as well as his harness and vet's booklet.
As you can see, there are quite a few items in your dog's backpack. The good thing is that, in the same way that you can hire Proguías to transport your heaviest luggage, you can also do the same with your dog's. If you travel with us, we can transport up to 15 kg of luggage so you don't have to carry it yourself.
The canine credential
At Proguías we collaborate with the Asociación Protectora de Animais do Camiño (Association for the Protection of Camino Animals) (APACA) in a wonderful initiative. This association has created a canine credential so that all dogs that walk the Camino de Santiago with their humans can also receive a certificate of their effort.
The certificate, called "Perregrina", is issued by the association itself and costs 3,00€. The credential to be stamped costs another 3,00€. And the full amount is used to collect and save abandoned animals on the Camino de Santiago. A great way to recognize the effort of the pilgrimage and also help other dogs that are not as lucky as ours.
Now, how is the dog tag used? As with the pilgrim's credential, you will have to stamp the credential in the places where the dog has passed through: shelters, restaurants, veterinarians, dog shops, etc.
Once you arrive in Santiago de Compostela, go to APACA in Sebe 84, Cacheiras, Teo. There you will be given the "Perregrina" or Compostela Canina. If you are travelling with Proguías you will have the canine credential free of charge and you will only have to pay the 3,00€ for the Compostela Canina at the association on your arrival. If you prefer to do it on your own, you can ask the association to send it to your home address.
Read more | The Pilgrim's Credential: 7 facts you need to know