Doing the Camino is a unique experience that attracts men and women from all over the world. Everyone has their own reasons for doing the Camino de Santiago, but they all lead to the same point: one of the most beautiful and intense life experiences that can be lived.
The route offers a wide variety of experiences, from art and culture to spirituality and the slow enjoyment of nature. It is an opportunity to disconnect from the hustle and bustle of everyday life and to relax, which helps to improve one's state of mind. Walking for days in nature is a wonderful way to reconnect with oneself, loosen stress and regain a balanced mood. It is also an opportunity to better oneself, both physically and mentally.
It is also a challenge that requires effort and dedication, of course. Sometimes it is exhausting. But there are few sensations more intense than the one we experience when we reach the end of the route, when, without even realising it, we start planning the next one.
In addition, it is an opportunity to meet new people, as the route is shared with pilgrims from around the world. In short, each pilgrim has their own reasons for undertaking this Camino, but here are our top 5 reasons to do the Camino de Santiago:
1. Religious or spiritual reasons for walking the Way of St. James
The most common reason for walking the Camino de Santiago has been, throughout history, spiritual. And that is why we put it in first place.
Today there are other motivations, as we shall see below, but the origin of the Camino is undoubtedly religious. More specifically, Christian. It is not in vain that the different paths have been forged by the passage of millions of pilgrims from all ages trying to reach the tomb of the apostle St. James the Greater to venerate his remains.
Today, there are still many pilgrims who undertake this route for reasons of faith and religious sentiment, or as thanks for some request that they feel has been fulfilled.
Alongside the religious aspect is the spiritual aspect. The boundaries are blurred and have a lot to do with what one understands by "spirituality".
Therefore, when it comes to obtaining the Compostela - the religious document that accredits your pilgrimage - the church of Compostela recognises both religious and spiritual motives.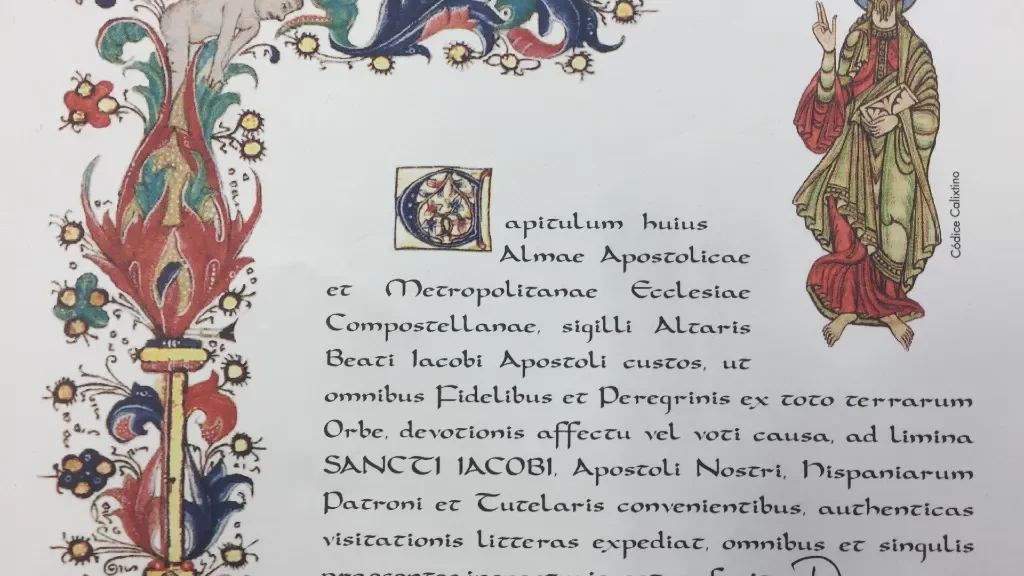 2. The Way of Saint James as self-improvement
Another of the most common reasons for doing the Camino de Santiago is to consider it as a personal challenge, both physically and mentally.
The physical challenge is obvious. Not only do you have to show endurance to walk (or cycle) long distances - walking stages are generally around 20-25 km and cycling stages between 50-70 km. Some routes also incorporate technical challenges due to the terrain, gradients, etc.
So, taking into account the mainly sedentary lifestyle we have nowadays, completing the stages we have set ourselves and doing it not just one day, but in several consecutive days, implies overcoming limits that we often impose on ourselves. And thus demonstrating to ourselves what we are really capable of.
This has another associated advantage: the Camino de Santiago is an excellent way to improve physical fitness, as you walk or cycle several kilometres a day. In addition, being able to choose between different routes with different degrees of difficulty, we can always find challenging routes.
But the challenge is not only physical. During the stages our mental strength and determination will also be put to the test and we will have to overcome the limits of complacency and laziness. But, at the same time, the Camino encourages introspection and, as we progress, deeper reflections will displace the quick thoughts of everyday life.
Moving slowly for days in nature is a wonderful way to unwind and relax, which helps to improve your mood. The Camino de Santiago is an opportunity to eliminate stress and anxiety and find inner peace. In addition, the slow pace and relative monotony of the route helps to reduce activity in the prefrontal cortex of our brain, which is associated with a greater sense of calm and happiness. It can also provide a time to step back, reflect and process personal or emotional issues, which can lead to greater clarity and understanding. This is why we consider it a therapeutic experience for wellbeing.
To recapitulate: this reading of the Camino as a challenge, challenge or overcoming is inevitable, as inevitable are its positive effects. And that is why it is usually among the most mentioned reasons, even if it is not the main one.
3. Rediscover the beauty of nature
The Way of St. James crosses truly beautiful landscapes. From the mountains of the Pyrenees to the green fields of Galicia, passing through the ceral plains of Castile, the green Cantabrian coasts or the lands of northern Portugal, to name just a few scenarios.
Because it is made up of so many different routes, it always offers the possibility of being placed in front of the different types of landscape and natural frameworks that appear before our eyes as we go along. It is even possible to see several of them in a single trip, especially on medium and long routes. And it is a great way to reconcile ourselves with the nature around us.
In a world that has become accustomed to moving faster and faster, where the surroundings are blurred by speed, the great secret of the Camino de Santiago lies in the slow movement imposed by walking or cycling. At this pace, the environment ceases to be an accessory, that which remains outside the car, the train or the plane window, and is filled with meaning.
4. Enjoying cultural exchange
Another great reason to do the Camino de Santiago is undoubtedly the opportunity it offers to meet and interact with people from different countries and cultures. Not in vain, people from all over the world move along its routes.
On the Camino you will meet people who speak other languages, have other customs and a different way of thinking than you, maybe even a different reason for doing the Camino, but you all have a common goal.
By walking together, a community of pilgrims is formed, sharing experiences, stories and laughter. And they say that the friendships made on the Camino are the kind that last for many years.
5. Learn from your cultural heritage
This fifth reason is related to the third - to ingratiate oneself with nature and the landscape. But it points in a different direction: to human works.
As we have said, it is not only about burning kilometres, but also about enjoying the whole process and getting to know everything that the Camino has around it: its stories, its magnificent art, its gastronomy, even its languages and other traditions.
Doing so will not only allow you to get to know the main monuments of the Camino, children of different periods, but will also help you to contextualise them. The Way thus appears before us as a bridge of cultures and customs through our footsteps. The same steps that stonemasons and goldsmiths, kings and masons and a huge number of pilgrims from other eras made in search of work or redemption along one of the most prosperous paths in medieval Europe.
Epilogue
The reasons to do the Camino de Santiago can be summed up in just one: it is a unique experience. We encourage you to embark on this adventure and discover the wonders it has to offer. A wide variety of experiences, from relaxation and mood enhancement, to self-improvement and connection with tradition, culture and spirituality of each person.
Each pilgrim has their own reasons for undertaking the pilgrimage route, but they all lead to the same point: one of the most beautiful and intense life experiences that can be lived.
➜ You may also be interested in: Discover the most popular routes and their services.